Dehumidifiers are home appliances that remove excess moisture from the air, helping to reduce mold and mildew growth, protect wooden furniture from damage, and make rooms feel more comfortable and less humid. Quiet rooms are often used for sleeping, studying, or meditation in order to create a peaceful atmosphere. A quiet room dehumidifier helps maintain a peaceful atmosphere.
In a quiet room, the sound of a dehumidifier can be disruptive, so it's essential to select one that operates quietly. To keep a peaceful environment, look for the best quiet room dehumidifier that operates at low decibel levels to avoid making too much noise.
This article will look at the 3 best quiet room dehumidifiers, their pros, and cons, how they work, and what to look for when choosing one. Ultimately, there will be a final summary and recommendation provided at the end.
Also, Read-How to Make a Room Soundproof For Music
---
List of Top 3 Best Quiet Room Dehumidifiers
Are You In Hurry? No time to read the complete article?
Then you can simply go with TOSOT 50 Pint with Internal Pump 4,500 Sq Ft Dehumidifier Energy Star – for Home, Basement, Bedroom or Bathroom – Super Quiet (Previous 70 Pint)
TOSOT 50 Pint with Internal Pump 4,500 Sq Ft Dehumidifier
Yaufey 2500 Sq. Ft Home Dehumidifier
Honeywell, White TP50WK Energy Star Dehumidifier
---
The Top 3 Quiet Room Dehumidifiers
TOSOT 50 Pint with Internal Pump 4,500 Sq Ft Dehumidifier
If you're in search of a quiet and powerful dehumidifier and you're looking for a quiet one, then Tosot offers a solution here. It's a 4500-square-foot unit that has a 50-pint day capacity. It only generates 48–52 decibels at maximum power, making it the most quiet unit on the list.
If you're using this Tosot dehumidifier, you'll have nothing to worry about because it has live monitoring. You can choose the desired humidity level, and the unit works to achieve it before shutting off.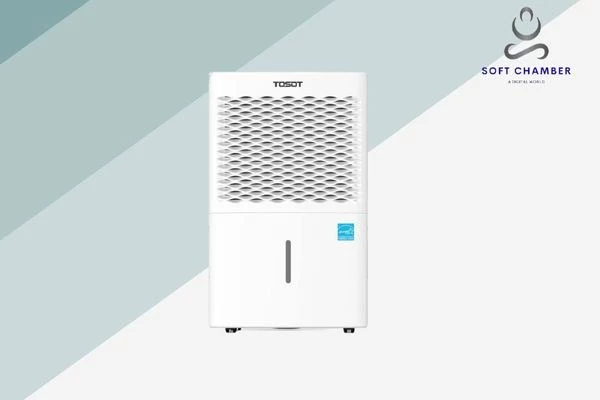 Overall Rating: 4.5/5
This dehumidifier can also allow water to collect in the drain bucket until it's almost full, after which its internal pumps will start and push the water out, and you will never have interruptions due to an empty tank. The pump is also capable of pumping water vertically or sideways as far as 12 feet away, which makes it one of the quietest dehumidifiers that have pumps.
The only thing that is notable here is the price because it's one of the most expensive options on the list. The power outage resume feature, Energy Star rating, and washable filter make this a great value for money.
Top Features
Internal Pump: pump water up to 16 feet vertically

Large Capacity: With a 50-pint capacity, this dehumidifier can remove up to 50 pints of moisture from the air per day, making it suitable for rooms up to 4,500 square feet.

Automatic humidity control

Overflow Protection

Super Quiet: Noise level of just 51 decibels

Digital Display

Auto Restart: In the event of a power outage, the dehumidifier will automatically restart when power is restored.

Washable Air Filter

Easy Mobility: comes with built-in wheels and handles
Item Dimensions-14.76 x 11.38 x 24 inches
Safe and Efficient-Energy-Star rated and UL-certified
PROS
Powerful and quiet dehumidifier at 48 to 52 decibels
Built to encompass an area of 4,500 square feet.
The bucket is a collection one and has an internal pump.
Takes away up to 50 pints daily.
CONS
It's expensive, but it's worthwhile.
Searching for Quiet Products?
---
Yaufey 2500 Sq. Ft Home Dehumidifier
The home dehumidifier is an excellent choice for those who want to fight the humidity that can be found in large and medium-sized basements and rooms. With a surface area that can be as large as 2,500 square feet, the unit can effectively cut down on moisture levels in various rooms.
One of the best aspects of this dehumidifier is its easy drainage options. It is possible to set it to automatically drain with a water hose (the hose is not included), and you can remove the 0.48-gallon tank of water. This will allow you to run the dehumidifier with no hassle while continuously cleaning and emptying the tank.
Overall Rating: 4.5/5
In addition to its utility in terms of functionality, the Yaufey dehumidifier was also designed with comfort in mind. It runs quietly, which makes it an ideal choice for bedrooms and other places in which noise could be a problem.
The Yaufey 2500 sq. ft. home dehumidifier can also be highly energy-efficient, making it ideal for those looking to cut down on their energy usage and their electric bill. The slim design that the product has makes it simple to move it from room to room, while the LED display gives easy-to-read details about the humidity level currently in place and other settings.
Top Features
Large Coverage Area- 2500 Square Feet

Large Water Tank Capacity- 0.48 gallons

Low Noise- low noise level of just 42 decibels

Max. Moisture Removal/Day- 32.7 Pints

Warranty – 30-day money back, 12-month free replacements, and lifetime support.

Energy Efficient

Product Dimensions-8.2″D x 12.2″W x 18.9″H
PROS
Energy efficient, which helps reduce energy consumption and saves money on electricity costs.
A 24-hour timer is added for convenience.
LED display that is easy to read about humidity levels as well as other settings.
CONS
The hose required for automated drainage is not included.
The 0.48-gallon capacity of the water tank might require manual draining on a regular basis, according to the humidity of the room.
---
Honeywell, White TP50WK Energy Star Dehumidifier
It is a dehumidifier with a sophisticated design that will take care of comfort completely by itself. Own through monitoring the humidity levels in the room and controlling humidity levels so that you can enjoy an environment that is comfortable.
Overall Rating: 4.2/5
It is part of a greater digital control system that includes everything from an LED monitor that displays temperature, timer, and humidity levels to user-friendly quick set-up buttons that make it among the most quiet dehumidifiers suitable for use at home.
It can remove 30 pints in a day and is suitable for rooms up to 3,000 square feet in size. The main drawback is that it's an 0.88-gallon tank, which is a bit small for the 30-pint daily capacity. However, on the plus side, it has the option of continuous draining, which will solve the problem.
Large Coverage Area- 3000 Square Feet
Item Dimensions-10.5 x 13.2 x 20.1 inches
Capacity-30 Pints
Energy Star 4.0 Energy Efficiency Certification by UL, UL Product No. 4788487982, 2018.
Heavy-Duty Handle can withstand up to 150 lbs.
24-hour energy-saving timer
5 – Year Limited Warranty 1st year parts and labor 5 Years on all parts of the sealed system
PROS
Digital controls and an LED monitor are included.
Up to 30 pints of water can be removed daily.
Ideal for areas up to 3000 square feet
Energy Star qualified quiet dehumidifier
Awarded a one-year warranty
CONS
It is a tiny tank, yet it offers continuous drainage.
---
Factors to Consider When Selecting the Best Quiet Room Dehumidifier
When selecting a quiet room dehumidifier, the size of the room where it will be used is an important factor to consider. This will determine both the required capacity of the dehumidifier as well as how much moisture needs to be removed from the air. Larger areas require larger models with higher capacities, while smaller rooms need smaller models.
To determine the ideal room size for a dehumidifier, measure the length and width of your space and multiply them together to get square footage. An approximate measurement of dehumidifier quality is useful when searching for an appropriate one.
The capacity of a dehumidifier refers to how much moisture it can remove from the air in 24 hours. Choosing a quiet room dehumidifier should consider its effectiveness at maintaining indoor air quality.
Generally, choose a capacity that is slightly higher than what is required to remove moisture from the air; this will ensure that it can maintain indoor air quality.
It is essential to remember that capacity isn't the only factor when selecting a dehumidifier. Other aspects like noise level, energy efficiency, and maintenance must also be considered when selecting the ideal model for your requirements.
When selecting a quiet room dehumidifier, the noise level is an important factor to consider. This refers to how much sound the device produces while running and can make it difficult for individuals to sleep, watch television, or simply enjoy some peace and quiet in their environment. A high noise level may make it difficult for individuals to relax or work in such conditions.
Noise levels for dehumidifiers are usually measured in decibels (dB), with quiet models at 50 to 60 dB. When selecting a dehumidifier that will be placed indoors, such as in bedrooms or living rooms where you want to maintain a peaceful atmosphere, make sure it has a low noise level.
When searching for a quiet room dehumidifier, it is wise to compare their noise levels and select one with an acceptable level.
Dehumidifiers vary in their energy efficiency based on how much effort they use to remove moisture from the air. Devices with higher efficiency use less power to remove the same amount of moisture, leading to lower utility bills.
When shopping for a quiet room dehumidifier, it is recommended to look for models that are Energy Star certified. You can cut your energy costs and carbon footprint by using these gadgets because they have passed testing and certification to fulfil strict energy efficiency criteria.
In addition to selecting an Energy Star-certified dehumidifier, it is wise to compare their energy efficiency ratings. A dehumidifier's energy efficiency can be accessed via its Energy Factor (EF) rating, which measures moisture removed per kilowatt-hour (kWh) of energy consumed.
Maintenance is another essential factor to consider when selecting a quiet room dehumidifier. The amount of upkeep required depends on several factors, including the size of the device, humidity levels in your home, and how often you use it.
Some dehumidifiers require more upkeep than others, such as regular filter cleaning, draining of the water tank, and checking refrigerant levels. For ease of maintenance, choose a dehumidifier with simple yet straightforward maintenance instructions.
By considering the maintenance requirements for a quiet room dehumidifier, you can ensure that you choose one that is simple to use and successfully eliminates excess moisture from the air.
Price is another important factor when selecting a quiet room dehumidifier. Prices can range anywhere from under $100 to over $500 depending on the size, features, and energy efficiency of the device.
When looking for a quiet room dehumidifier, it's wise to set a budget and prioritize the features and benefits that matter most to you.
---
Conclusion:
This concludes the comprehensive overview and buying guide to help you select the quietest room dehumidifier currently available. If you're trying to replace your noisy and old-fashioned dehumidifier, there's never been a better time to make the switch.
I recommend the quietest Tosot with its lower 48-52 decibel amount, 4,500 square-foot coverage area, and 50-pint daily capacity. I hope that these reviews have helped you choose the best quiet room dehumidifier to fit in your home. Don't let the cost discourage you from making an excellent investment.
If it's not, I hope that the buying guide can help you select a quiet model that meets all your requirements. So you can take advantage of the benefits of a humidifier while also having a great night's sleep.
---