When it comes to home improvement, most people are either too lazy or too scared to try doing the work themselves.
Sometimes they're right to be afraid; there are some jobs you should leave to the professionals if you want to keep your house intact, but sometimes you can save money and improve your home at the same time by doing the work yourself!
With that in mind, here are some great DIY ideas for home improvement 12 Budget Ideas (easy DIY home improvement projects) .
---
How can I improve my home on a low budget?
Install a Shiplap Accent Wall
Are you looking for a fun and easy DIY project to add some personality to your home? A shiplap accent wall might be just what you need!
Shiplap is a type of wood siding that's often used in barns and farmhouses. It's easy to install, and it can make a space feel cozy and inviting.
Here's how you can install a shiplap accent wall in your home First, measure the height and width of the area where you want to install the wall.
Then buy enough plywood panels for the size (it should cost about $5 per panel). Next, cut the panels down to size with a circular saw or handsaw.
Apply an adhesive onto one side of each panel and nail them into place on the wall with galvanized finishing nails.
Finally, paint over the nail heads with white paint so they blend in seamlessly with the rest of your walls!
---
Stencil Your Patio
Who doesn't love a freshly stenciled patio? Stenciling is a great way to add personality and pizzazz to any outdoor space.
Here's how to Start by using an exterior paint sprayer to cover the surface with the color of your choice. Next, use a 4 roller (or smaller) and a stencil brush to apply the design onto the surface.
You now have an all-new look for your patio or deck area!
---
Fake the Look of Marble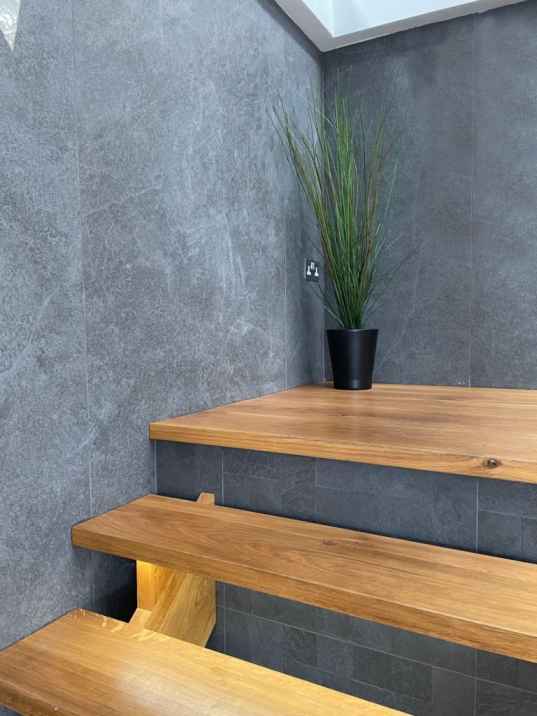 Marble is a classic material that can add a touch of luxury to any home. Luckily, there are ways to fake the look of marble without breaking the bank.
One way is to use chalky paint. Apply three coats of your desired color over an even surface like primer or bare drywall, then use a rough brush to create a faux-marble texture.
Another option is using textured paint like paint with sand in it, which can simulate that same shiny marble finish we all love so much.
You may also consider installing textured wallpaper or panels which will make your space feel more luxurious than ever before!
---
Remove a Popcorn Ceiling
Have an outdated popcorn ceiling? Get rid of it with this easy DIY project. You'll need a few supplies, including a spray bottle, water, detergent, joint compound, and a putty knife.
First, mix the water and detergent in the spray bottle. Next, use the putty knife to scrape off any loose pieces of popcorn ceiling.
Then, mist the area with the water and detergent mixture and let it sit for a few minutes. After that, use the joint compound to patch any holes or cracks. Finally, sand the area smooth and paint over it.
---
Update Ceramic Floor Tile with Paint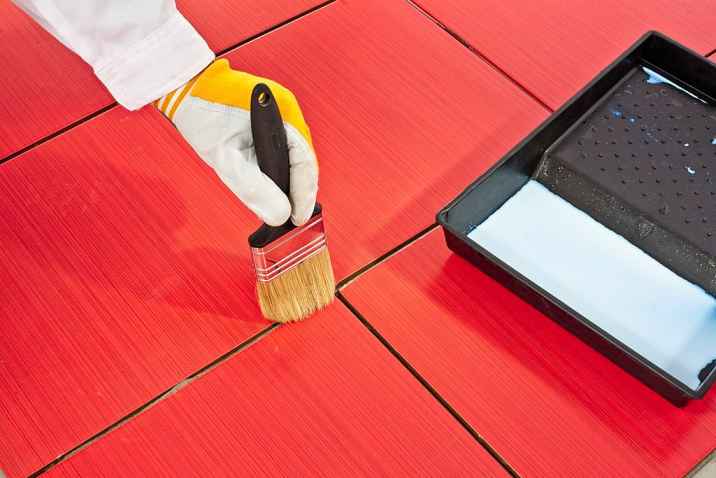 Adding a fresh coat of paint to your ceramic floor tiles can brighten up a room – and it's a lot easier than you might think.
First, clean the tiles thoroughly with soap and water to remove any dirt or grime. Then, using a stencil or template, tape off any areas you don't want to paint.
Next, apply a base coat of primer specifically designed for use on ceramic tiles. Once the primer is dry, choose your paint color and apply it in thin, even coats.
When you're finished painting, seal the tiles with a clear topcoat to protect your handiwork.
---
Paint Your Doorknobs
A new coat of paint can do wonders for a room, and it doesn't have to be expensive or time-consuming. One quick and easy way to update your home is to paint your doorknobs.
You can either go with a classic color like black or white or get creative and try something fun and bright.
---
Renovate Kitchen Cabinet Hardware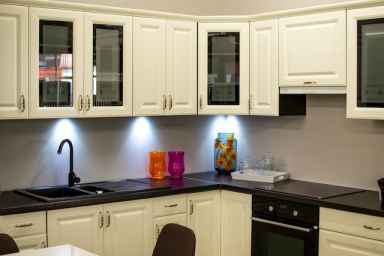 If your kitchen cabinets are looking a little dated, one of the quickest and easiest ways to give them a facelift is to update the hardware.
You can do this yourself in just a few hours, and it will make a big impact on the overall look of your kitchen.
---
Whitewash a Brick Fireplace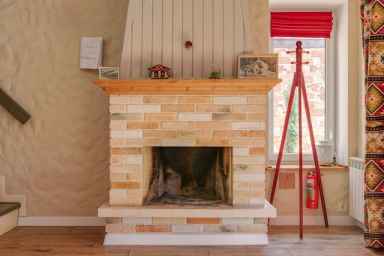 Whether your home is rustic or contemporary, a whitewashed brick fireplace makes a statement. The first step is to gather your supplies: a large bucket, a garden hose, a drill, a wire brush attachment, rags, rubber gloves, eye protection, and old clothes.
Then, wet the bricks down with the hose and let them soak for about 30 minutes. Next, mix one part of bleach with ten parts of water in the bucket.
Using the wire brush attachment on your drill, scrub the bricks with the bleach solution. Once you've scrubbed all of the bricks, rinse them off with the hose and let them dry completely.
---
Swap Your Shower Curtain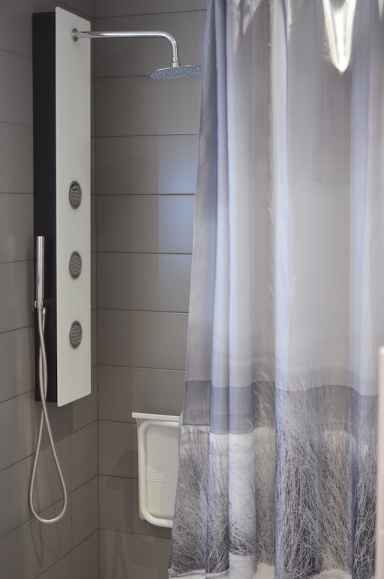 A quick and easy way to update your bathroom is to swap out your shower curtain. If your current one is looking a bit worse for wear, or you're just ready for a change, there are lots of great options out there.
You can go with a classic white or black, or go for something bolder. Patterned curtains are also very popular right now. And if you want to get creative, you can even make your shower curtain.
---
Double-Up on Porch Rugs
Rugs are a great way to add color and pattern to your porch, but they can also serve a dual purpose. Rugs can help protect your porch floor from dirt, debris, and moisture.
Plus, they can add an extra layer of insulation in the colder months.
---
Give Your Fan a Makeover
Do you have an old ceiling fan that could use a makeover? Give it a fresh new look with some paint and new blades. You can also add some fun decals to the blades for a pop of color.
Updating your light fixtures is another great way to update your space without spending a lot of money.
You can find some great deals on used fixtures at second-hand stores or online. Just be sure to give them a good cleaning before you install them.
---
Try Peel-and-Stick Tile
Have you ever wanted to change up your home decor but didn't want to spend a lot of money? Peel-and-stick tile is a great way to do that!
You can find this type of tile at most home improvement stores and it's really easy to install. Aside from that, it comes in a variety of colors and styles so you can find something suitable for your taste.
---
Related Articles:
---
Frequently Asked Questions-FAQ
---
Que:-How many years does a house last?
Ans:-Residential buildings normally last between 70 and 100 years.
---
Que:-How can I improve my home on a low budget?
Ans:-Check out our easy home improvement ideas below
Repaint Your Living Area
Fake the Look of Marble
Paint Your Doorknobs
Paint Your Tiles
Hang New Curtains the Right Way
Replace cabinet hardware
Hang new mirrors
---
Que:-What is the meaning of Home Improvement?
Ans:-A project or activity of improving or renovating houses or apartments by doing some work on them.
---
Que:-list of home improvement products?
Ans:-you can check the major home improvement products list as below.
Bathroom Storage & Vanities-Bathroom Vanities, Bathroom cabinets, and shelves.
Lighting-ceiling lighting, lamps, etc.
Bathroom Fixtures-Bidets, Showers, Toilets, Urinals, Sinks, Bathtubs, etc
Kitchen Fixtures-bar sinks, pot filler, Bathroom Faucets, etc.
Appliances-kitchen appliances, laundry appliances, floor cleaning appliances, etc.
Tiles-mosaic tile,wall & floor tile,tile murals,accent,trip & boarder tiles,ceiling tile etc.
Hardware-Cabinet and Drawer Knobs, Cabinet and Drawer Pulls, Door Hardware, Towel Holders, Brackets, Hinges, Window Hardware, and Parts, etc.
---
---